We Are Now Performing
Qualitative & Quantitative
Fit Testing
We are now offering both Qualitative and Quantitative Mask Fit testing in Kamloops and Kelowna locations. All fit testing requires a Scheduled appointment (no walk ins). Maximum 2 people per appointment. Nutech Safety is a certified mask fit testing authority for the Kamloops and Kelowna regions. We also offer on-site fit testing.
Contact Us to Schedule Your Fit Test
Need to Knows Before Your Fit Testing Appointment
CSA Standard Z94.4 prohibits fit testing if there is any hair growth between the skin and facepiece sealing surface, such as stubble beard growth, beard, moustache, or sideburns which cross the respirator sealing surface.
Therefore Nutech Phoenix will not conduct qualitative or quantitative fit tests on people with any facial hair that extends under the respirator seal or interferes with valve function. Our use limitation instructions provide that all tight-fitting respirators should not be used with "beards or other facial hair or other conditions that prevent a good seal between the face and the sealing surface of the respirator."
N95 Fit Testing - Do not eat or have anything to sweet to drink within 60 minutes before your fit test
Quantitative fit testing requires you to be able hold your breath for 10 seconds
Irritant smoke Fit Testing requires a Sensitivity Screening Check - The person to be tested must demonstrate his or her ability to detect the irritant smoke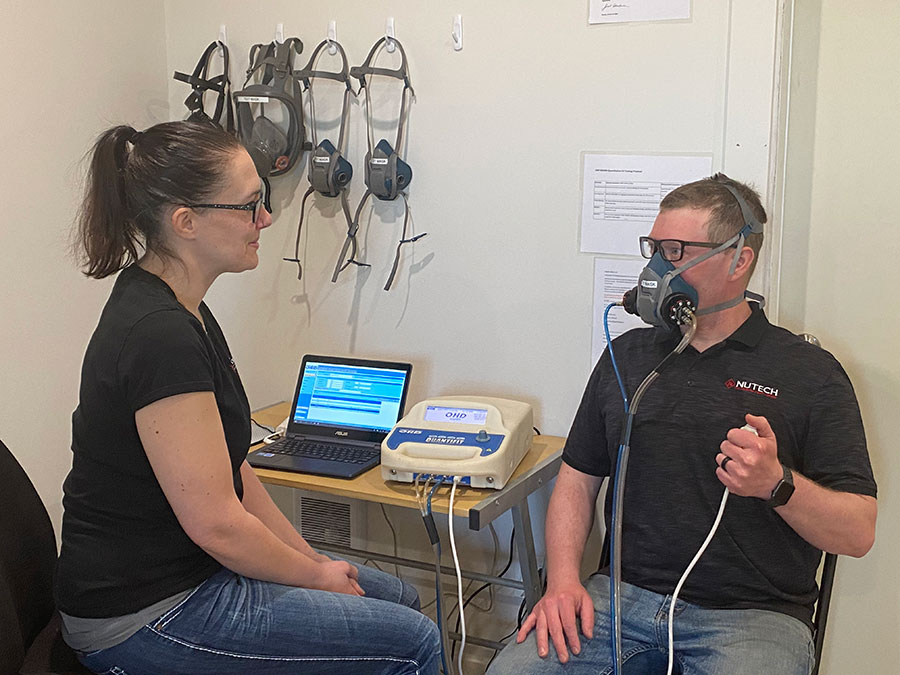 Quantitative Fit Testing
Nutech Phoenix provides Quantitative Mask Fit Testing utilizing the OHD Legacy Quantifit test machine with Controlled Negative Pressure (CNP) Technology to perform a Five minute compliant Mask Fit Test (OSHA, CSA, WCB and ISO).
Learn More About the Legacy Quantifit
Qualitative Fit Testing

A qualitative fit test relies on a person's ability to detect a particular test agent by odour, taste, or irritation. The test agent is released near the person wearing the respirator. If the agent in the air leaks into the face piece of the respirator, it will be detected and the worker will know that the seal is not tight enough. If it cannot be detected, then the seal is good.
We offer 2 types of qualitative fit tests:
Irritation fit test (reusable ½ and full face respirators)
Taste fit test (N95 Masks)
*Testing only takes 15 minutes. Must be clean shaven where the respirator seals to your face as per Worksafe BC regulations. If you have a cold or flu, mask fit testing is not recommended as results can be inaccurate.
Contact Us to Schedule Your Fit Test
Contact Us to Schedule a Fit Test
Complete the form below or call us at 866-277-2888.